At DIV eX, our philosophy is to start with the end in mind and build a legal strategy to get you there.
We study your situation, assess the possible scenarios and develop the best plan to move you forward swiftly. We will clearly explain your rights and entitlements, and help you realise your best final outcome.

"Literally 5 minutes into the call, my 2 most important questions were answered. By the end of the call, the weight had lifted off my shoulders and I understood what I needed to do next".

Clarity Session
A FREE 15 minute telephone call with a Div eX Lawyer.
Your next step is the most important step!
It doesn't matter where you're up to or what you are thinking or feeling… Should I stay? Should I go? If you're already going through the process and it's not working for you, how do I turn things around?
Let us listen to you in this FREE Clarity Session now, to start saving yourself any more stress.
Make a time with us by clicking below, to get your personalised best next step… We want to help and we can help.
"I feel so much better now".

Discovery Session
Once we have completed the Clarity Session and we feel we can help, you can then progress to a 1 hour online or in-person Discovery Session.
In this session, we dig into all of the details, and you are given the answers to all of your questions. You will also learn how the family law process applies to your individual situation.
No questions are off-limits and all entitlements are covered. You will take in everything you need to know to move forward and the specific outcomes to choose from, all in plain English without legal, lawyer jargon.
"My life had turned to crap and I thought I was going to lose my kids and everything I'd worked for. DIV eX had a blueprint and a strategy that turned everything around".

Strategy Session
Based upon the nature and complexity of your case, we now move into complete Strategy mode and you are invited to partake in a 1 hour online Strategy Session, to clearly map this out.
Here, with your senior divorce and separation strategist, we will finalise and personalise your DIV eX 'Separation Strategy Blueprint'.
This is where your personal strategy comes together, a feeling of certainty enters and a structured plan is provided to you in writing, outlining immediate steps, short-term plans and long-term tactics, thereby minimising the cost, stress and impact that a legal matter may have on you and your family.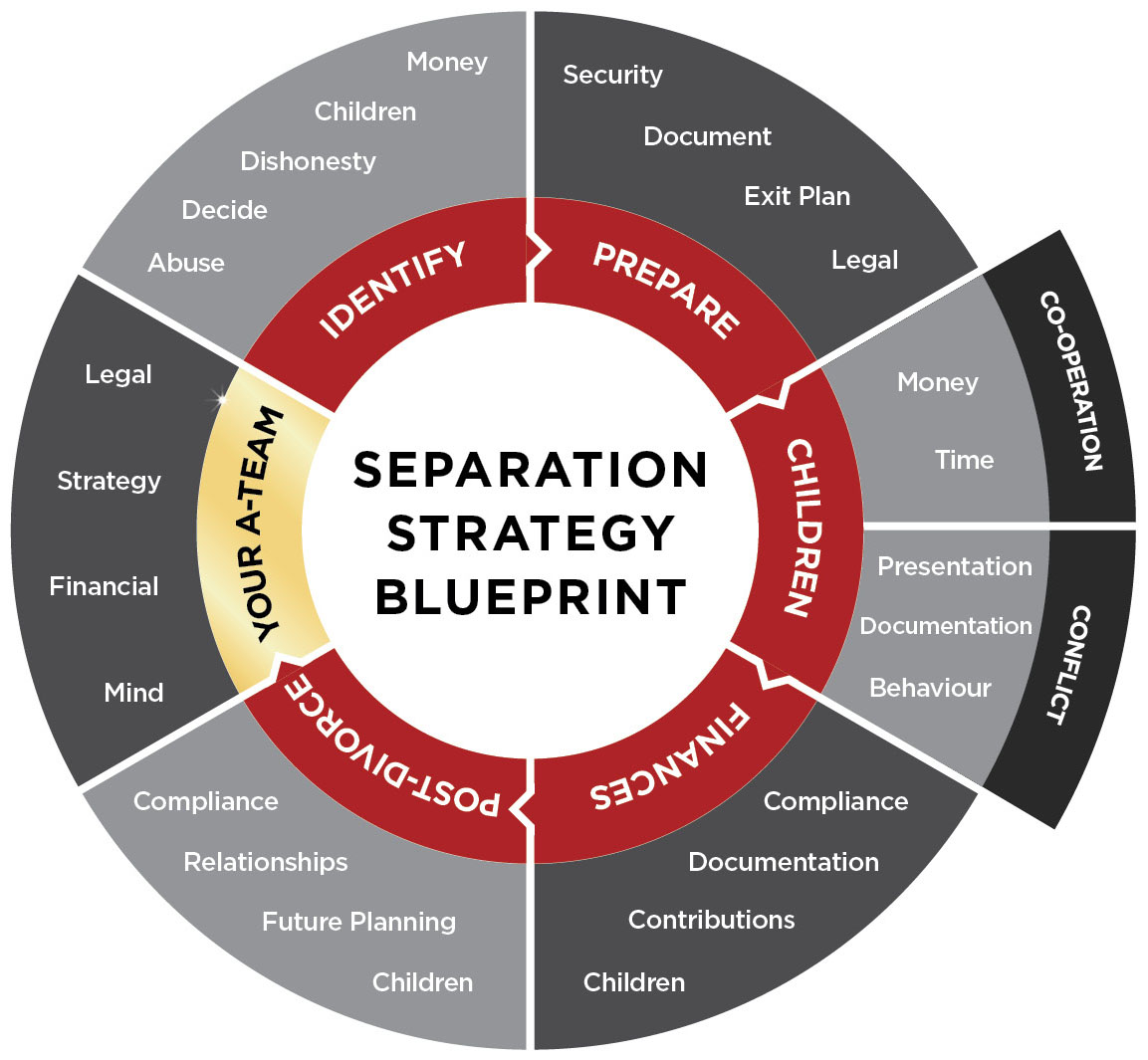 Amicable Agreements and Court Documents
Most people undervalue the importance of correct and accurate documentation and the role it plays in the downfall of many families or the success of others, it's a fine line and one you don't want to be on the wrong side of.
Your DIV eX team skilfully prepare documents to make your case as solid as possible, giving you the advantage if you reach an agreement along the way or ultimately have your matter heard by a court.
Specific documents include:
Application for Consent Orders and Terms of Settlement;
Binding Financial Agreements;
Initiating Applications, Responses and Affidavits;
Applications for Divorce;
All required Federal Circuit of Australia and Family Court of Australia documents.
Mediation
To save money, family stress and time… this is often a powerful route for you to take, if you have the right team and strategy behind you.
The DIV eX team are able to support you at mediated conferences and draft all legal documents required if an agreement is reached, so you can move on and put everything behind you, with as little fuss as possible and with as much success as possible.

Court Advocacy and Appearances
If you end up going to Court, you need every advantage possible and the best people in your corner. In the same sense that DIV eX are experts in Strategy, we only engage experts to argue your case in court.
Our pride of Barristers are hand-picked for their expertise and superior skills in the courtroom and are solely determined and relentless in their pursuit to win.
Specific DIV eX lawyers are also highly trained advocates and can attend exclusively or along-side counsel. This way you know you are always represented by the highest level of expertise and commitment to winning your case.

Ancillary Services
Peace of Mind Package
Separation requires an immediate change to your Will to avoid leaving everything to your ex and leaving out your children, your family or a new partner.
DIV eX Lawyers are able to take care of a new or updated Will following your separation, safeguarding your children and family to make sure that you have total control over your legacy and all that you have built in your life to date.

Conveyancing – Sales, Purchases and Transfers of Property
One of the greatest challenges of separation and divorce is, what happens to your home?
If part of your separation involves selling or transferring a property, stamp duty can often be avoided. DIV eX Lawyers can assist you with these services, allowing you the convenience and simplicity of minimising any extra loss and the wasting of time explaining all of your details again to someone who doesn't understand the journey you have been on.